Podere Santa Pia enjoys a wonderful panoramic view of the Tuscan Maremma and has a large garden with downey oak, cypress, rosemary, oleander and Mediterranean bush. Located on the outskirts of Castiglioncello Bandini, Podere Santa Pia offers the quiet tranquility of a private retreat, with numerous attractions nearby. Gorgeous small hillside villages, natural reserves and beautiful beaches are only a short drive away.

Holidays in Tuscany | Case vacanza in Toscana | Podere Santa Pia
Galleria fotografica Monte Amiata
Pdf | Download the map of the Strada del vino Montecucco
Strada del vino Montecucco Itineraries (it)
Wines in Tuscany | The biological wine in Tuscany
Map of Organic or biological wine in southern Tuscany
Tuscany Wine Architecture cellars tour | An itinerary along famous wineries, designed by leading masters of architecture such as Renzo Piano, Tobia Scarpa, Marco Casamonti and Mario Botta.
Member companies of the DOC Montecucco
Cycling in Tuscany | Cycling tours in Southern Tuscany
Cicloturismo in Maremma | La via del Montecucco
Trekking sul Monte Amiata: percorsi a piedi | Riserva Regionale Bosco Rocconi
Arcidosso | Parco Faunistico | La Riserva naturale del Monte Labbro


CENTRO VISITE DEL PARCO FAUNISTICO DEL MONTE AMIATA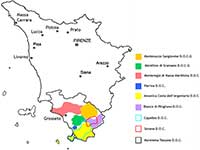 Monte Labbro. On top, to accolgiere visitors are the remains of Giurisdavidic, dating froend of '800 and the wide panoramic views over the Amiata and the Tyrrhenian side over the Arcipelagop Toscano up to Corsica. [2]

Nature Reserve Monte Labro and the Parco Faunistico del Monte Amiata
Monte Labbro (or Labro) is located on the south-west part of Mount Amiata and it extends for over 650 hectares. The entire area is mid-mountain, with rocky peaks reaching1,190 meters. The tree line is poor, in some limited areas are oaks, chestnuts, elms, hazels and maples and the Etruscan violets. Many wildlife species: wild cat, skunk, marten, martens and badgers. Among the hawks is possible to observe the harrier, honey buzzard, buzzards, harriers and the Lanner. A must see :some buildings of historical importance dating back to the movement giurisdavidico of David Lazzaretti.
Within the Monte Labbro Natural Reserve there has been for a long time an animal park, run by Comunità Montana.The park covers 120 hectares and is defined a German model "Wild Park". Among the guests deer, fallow deer, wild sheep and some species of chamois and roe deer. One can even spot the Apennine wolf.
The Maremma Natural Park was created in 1975 and is managed by Region of Tuscany- Park Authority. It extends along the southern part of the coast from Principina a Mare to Talamone. Its territory can be divided into an area north of the river Ombrone, the Swamp of the trap, and one on the south by the Monti dell'Uccellina. The first area, with all flat marshes and coastal dunes, has little vegetation. From the beach to the dune stand formations consist sea lilies and other plants, while in the area behind the dunes grow mastic and olive and alarge pine forest (600 hectares) ;also near the coast vegetation asholm oak and phillyrea, arbutus, heather and junipers
Inland, the evergreen species are associated to deciduous species such as manna, oak, maple and cork.[5]
Parchi e Riserve - Il Monte Amiata | Il Parco Faunistico del Monte Amiata e Monte Labro