Keep on walking downhill and turn right once you have walked past the city walls. Keep to the main path as you go downhill. You will notice the imposing tufa rock overlooking you. After approximately 900 metres, you will cross a tarmac road, the Strada Comunale Corta Stazione (the short municipality station road). Turn right and proceed keeping to the side of the road for approximately 200 metres. You will see the imposing monastic complex of the Abbey of Saints Severus and Martyrius in the background, which dates back to the early Middle Ages.
Turn left at the crossroads and proceed uphill along provincial road SP 111 dell'Abbadia following signs to Porano.[...][1]

There is public transport to go back to Orvieto, and you can take the COTRAL public bus from the terminus in Bagnoregio's

Piazzale Battaglini.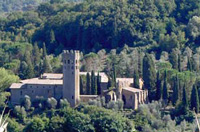 Abbey of SS. Severo and Martirio
Orvieto frazioni are Bagni di Orvieto, Bardano, Baschi Scalo, Benano, Biagio, Botto di Orvieto, Canale di Orvieto, Canonica, Capretta, Ciconia, Colonnetta di Prodo, Corbara, Fossatello, Morrano, Orvieto Scalo, Osteria Nuova, Padella, Prodo, Rocca Ripesena, San Faustino, Sferracavallo, Stazione di Castiglione, Sugano, Titignano, Tordimonte and Torre San Severo.