Different sectors of activity are currently open and these comprise gardening, separate and outsize waste collection, security and caretaking of monumental complexes and tourist areas, secretarial activities and cleaning of public environments, as well as the care and management of the park of L'Orto de' Pecci which comprises a restaurant and bar. Moreover, since 2001La Propostahas been certified with the AIAB mark for organic farming in the cultivation and production of vegetables.
History | The valley of Porta Giustizia, under Piazza del Mercato, is one of the best preserved green areas inside the old Walls of Siena. It has always been an ideal territory tor cultivation: it is watery and plan, beyond the uphill road called Via di Porta Giustizia. The name of the area, "Orto de' Pecci", refers to this function ('orto' means garden) and to the name of the family (the 'Pecci') which had owned the land tor a long time in the past. The story of the valley is antique and complex, though it has been mostly forgotten.

In the Middle Ages there was a village called Borgo di S. Maria, which had been built at the beginning of the fourteenth-century for new immigrants who wanted to become citizens of Siena. The vilIage was abandoned and taken apart during the fourteenth-century Black Death. Since then, that small part of the southern territory of Siena has always been used for cultivation, even after it had became part of the Psychiatric Hospital.
Since 1983, the social cooperative La Proposta has
been running the valley of Porta Giustizia, implementing gardening, agriculture and tourist facilities. La Proposta aims to promote the reconstruction of damaged identities. It is qualified as a biological farm and obtained the ethics certification SA 8000.

Inside the valley of Porta Giustizia it is possible to visit the 'medieval garden': a composite area where visitors can walk around biological fields and see vegetables used before the introduction of potato, tomato and corn. Uncommon herbs used for dyes in textiles; antique aromatic and officinal herbs.
Visitors can also walk through the green valley and see the old Walls and the ruins of the antique Porta Giustizia, or watch
the falconers' shows. It is also a way to look at Siena and at the Torre del Mangia from a different and unique point of view.

The Orto de' Pecci is run by a community that helps people with psychological difficulties, former drug addicts and prisoners. Besides what is materially produced, tending a collective vegetable garden offers a concrete opportunity to work in a community, encouraging responsibility and demanding attention and respect for the rhythms of nature.
La Proposta runs a restaurant which employs recovering drug addicts, ex-convicts, and individuals with special needs. Students are able to assist in cooking food for restaurant employees, preparing the dining area for customers, and cleaning the kitchen. Students also have the opportunity to work in the gardens, both in restoration and in the cultivation of vegetables.
Ristorante/pizzeria All'Orto de' Pecci



L'Orto de' Pecci comprises an exellent restaurant and bar, All'Orto de'Pecci.
It is our favorite restaurant in Siena.

All'Orto de'Pecci
Via Porta Giustizia, 39, 53100 Siena SI
Telefono: 0577 222201
www.ortodepecci.it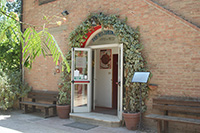 All'Orto de'Pecci